The Wheels On Your Scooter
|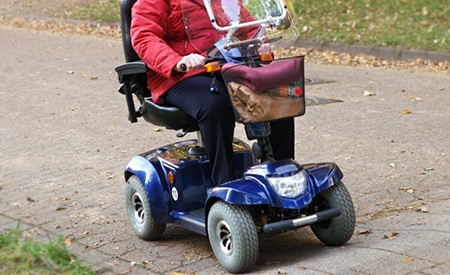 Mobility scooters are a handy way to get around when your legs and feet need some extra assistance. They provide comfortable personal transportation, and don't require you to be constantly in motion like a bicycle. Many patients require a temporary ride, while some make it a permanent solution to otherwise unsolvable, persistent problems. They are powered by electricity in the form of a handy rechargeable battery.
If you've seen such mobility scooters out and about in the world, you may have noticed there are some with three wheels and some with four. What are the advantages of one over the other?
Three-wheeled models tend to be more agile, and are great for tight indoor spaces. They are fine for outdoor use as well, provided even, solid ground is beneath them.
Four-wheeled models tend to have wider turning than three-wheeled models. However, due to their design, they are handier for going over uneven sidewalks, lawns, sand, or any other outdoor terrain. They will usually suffice for both outdoor and indoor use, provided the indoor areas are wide and open enough for scooter use.
Mobility scooters have been around for a long time, with engineers and designers constantly working to improve them. In this day and age, you don't need to worry about tipping over—pretty much all scooters are designed to prevent this.
Before you rent or buy a mobility scooter for personal use, spend a little time going through a normal day, and pay attention to the areas in your home and in your usual go-to places. You'll get a sense of how many wheels your scooter will need.
If you have questions about mobility scooters or other medical supplies, please feel free to call Home Care Pharmacy today!