The Convenience of Online Prescription Refills
|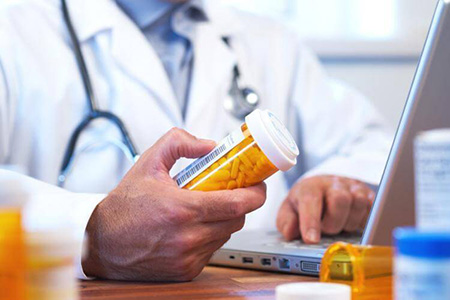 People require prescription medications. That's a fact of life. These prescriptions may be the kind that make life easier, or they may be the kind that allows people with life-threatening conditions to avoid fatal complications.
Ordering these prescriptions has traditionally been a difficult thing. Before the phone, people had to fill them in person.
New technologies allowed people more convenience; when the phone became part of life, folks were then able to call in advance and schedule a pick-up time. Deliveries made it even more convenient.
Now we can save time by ordering prescription refills online at times that meet your schedule without waiting in line in person or on hold over the telephone.
The Convenience of Online Prescription Refills
There are a few reasons as to why you should order your prescription refills online.
The biggest reason pertains to the convenience of ordering online. You can see when your prescriptions can be refilled, and you can see when they're ready to be picked up from your local pharmacy. This eliminates the guesswork you often have to do when refilling your prescriptions.
Another advantage of online prescription refills is the ability to ask your pharmacist questions. Pharmacies such as Home Care Pharmacy in Simi Valley allow you to ask questions about your prescriptions to ensure you receive the right medications.
Online prescription refills can also be ordered at any time of the day, even when the pharmacy itself is closed. People working night shifts and other shifts that may prohibit them from ordering their prescriptions in person will especially enjoy this advantage.
The last major area of convenience is the ability to have online prescription refills delivered to your door. While this feature will depend upon where you live and your ability to pay for this service, this can allow you to receive convenient prescription refills.
Who Do Online Prescription Refills Benefit?
The simple answer is that everyone can benefit from online prescription refills. The average person working a nine-to-five-job will find them incredibly convenient and flexible, just as people whom work outside a "normal" work schedule will.
Elderly and disabled individuals will also find online prescription refills extremely useful. They're convenient, easy, and require minimal waiting time. They can be refilled with just a few key presses and a few clicks.
Refill Your Prescriptions Online Today
Online prescription refills represent the most convenient way to order your prescription refills. They work according to your schedule while offering you an incredible degree of flexibility. They can be delivered to your door or picked up at your local Simi Valley pharmacy, or at a pharmacy in Los Angeles and Ventura counties as well.
Take advantage of this incredible advancement in prescriptions. Order your prescription refills online to see just how easy and convenient this process is.
14 Responses to "The Convenience of Online Prescription Refills"