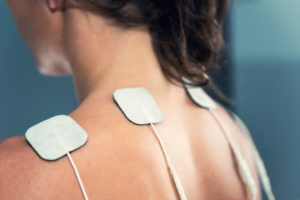 Many patients prefer a noninvasive solution to medications or other treatments when coping with injuries or chronic pain. Transcutaneous electrical nerve stimulation (TENS) units can help reduce discomfort, allowing you to be more active and enjoy life to the fullest. Along with a wide range of medical supplies, Home Care Pharmacy offers TENS units at our Simi Valley, California location and via home delivery for residents of Los Angeles and Ventura Counties.
What is a TENS Unit?
Rather than treating the source of pain, TENS units disrupt pain signals sent to the brain to help alleviate discomfort. These compact, battery-operated devices typically feature a pair of electrode pads with a sticky side that affixes directly to the skin. You may attach the electrodes wherever you feel discomfort, avoiding the eyes, temples, mouth, or the front and sides of your neck. Additionally, a TENS unit should not be used on varicose veins, over broken skin, or on areas of numbness.
TENS units are commonly used by those seeking relief from:
Arthritis and other joint pain
Neck and back pain
Pain caused by labor, menstrual periods, or other gynecological conditions
Chronic conditions, such as fibromyalgia
Sports injuries
Post-surgical pain
Multiple sclerosis
And more…
TENS units do not cure conditions that cause pain and provide temporary relief. Be sure to always consult with your physician before using a TENS unit. Our pharmacists are also available to answer questions about safe use and conditions that may benefit from this technology.
Benefits of TENS Units
Patients prefer TENS units to other pain treatments for a variety of reasons. Some have failed to find relief from other methods, while others seek options to complement additional modalities.
Some of the top benefits of TENS units include:
Compact: With lightweight, highly portable designs, many TENS units are easy to take on the go and use while away from home.
Easy to use: Simple controls make operation effortless, even when dealing with discomfort.
Flexibility: Varying levels of intensity and electrical frequencies help you tailor the treatment to your needs.
Non-addictive: TENS units provide an alternative to medications that may lead to dependency. They can also help reduce the need to increase the amount of medication you currently take.
Few side effects: Most individuals notice no side effects. Some may experience a tingling or buzzing sensation, but these are typically not painful.
Available features vary by unit. Please consult our pharmacy team to learn more about the devices we carry and which features will be most beneficial.
Why Choose a TENS Unit from Home Care Pharmacy?
There are many places to purchase a TENS unit, but when you work with Home Care Pharmacy, you can count on personalized guidance and a caring team that is invested in your well-being. We've served customers across Los Angeles and Ventura Counties in California for more than 25 years as a family-owned and locally-operated business.
Our diverse selection of TENS units and other medical supplies ensures you can find everything you need for at-home care in one convenient location. And because we're committed to a fast, simple experience for every customer, shopping for health supplies is never a hassle.
Explore TENS Units Today
Could a TENS unit be the right solution for you? Contact Home Care Pharmacy today to learn more about these pain management devices and explore our diverse services, including prescriptions, vaccinations, durable medical equipment, and more. For additional information about affordable delivery in Los Angeles and Ventura Counties, please call 805-527-9600.