Upright or Rollator: Which Walker Is Right for You?
|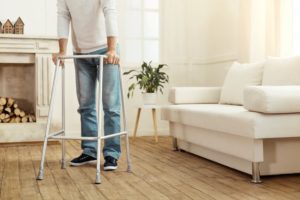 Being mobile is an often overlooked part of independence. Having the ability to move around at one's leisure can directly impact overall health and well-being. Those who can no longer move around on their own may benefit from the support of a mobility aid, such as a walker. However, not all walkers are the same — the upright and rollator varieties provide people with distinct advantages and are used for different purposes.
Located in Simi Valley, California, Home Care Pharmacy is a family-owned pharmacy that specializes in medical equipment delivery for those in Los Angeles and Ventura counties. Here, it explains the differences between these two mobility aids so individuals can determine which option best suits their needs.
Distinguishing Between the Rollator and Upright Walker
Both medical walkers are similar in many ways — they have easy-grip handles with handbrakes, seats, mobility pouches, and wheeled designs. The following are the areas where these mobility aids differ:
Height
Due to their height — and depending on the particular patient — an upright walker with a seat might be better for preventing the user from slouching as they move. With their elongated frame, these walkers help encourage better posture. As a result, patients who elect an upright walker may experience less back pain and fewer back-related injuries.
Eye Angle
Another difference users will notice between upright and rollator walkers is their eye angle. Because an upright walker is much taller and encourages a more natural position, they place the user's eyes at a straight-ahead angle. This allows the patient to view their surroundings more naturally. Compare this setup to the traditional rollator walker with a seat, where users lower their eye angle as they walk.
Pressure
The amount of pressure a person puts on their hands and wrists differs when using a rollator or upright walker. With a rollator walker, the handlebars are often positioned level with the hips. This results in the user bearing most of the weight from their upper body as they walk.
How to Choose the Right Medical Walker
While these medical walkers are distinct, their primary function is to provide support for people who require assistance with walking. They make great mobility aids for those who fit the following descriptions:
Have difficulty remaining balanced
Are at risk of falling without the support of an aid
Often become fatigued when walking by themselves for short distances
Selecting between the two walkers depends on the needs of the patient. Aspects to factor into the selection process include:
Upper Body Strength
A patient's upper body strength must be taken into account when selecting an appropriate walking aid. Patients with weaker upper bodies may be more comfortable using an upright walker given the stress it alleviates on the hands and wrists.
Pre-Existing Neck and Back Injuries
Because rollators can place added stress on a patient's neck and back, those who have endured previous injuries may find operating a rollator walker difficult. In these situations, an upright walker may be a much more comfortable option.
Height of the Patient
While upright walkers are very useful, they may not be for everyone. Individuals with a shorter height may find they prefer a rollator walker over the upright alternative because the handlebar angle aligns better with their height.
Walkers and Other Medical Equipment at Home Care Pharmacy
Individuals residing in Los Angeles and Ventura counties can find safe and reliable medical equipment at Home Care Pharmacy. This family-owned and operated pharmacy in Simi Valley, CA, has a wide range of useful aids, including walkers. It also offers various vaccinations and other related services. The friendly team members can assist anyone unsure which mobility aid is right for their medical needs. Additionally, Home Care Pharmacy offers short and long-term equipment rentals for those who need them.
For more information about medical walkers, or to speak with a team member about the benefits of different types, contact us today at Home Care Pharmacy.