Adjusting To Life with a Wheelchair
|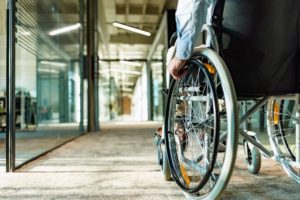 Adapting to the use of a new wheelchair is a process that may be difficult for some individuals. As with anything brand new, obtaining a wheelchair poses new scenarios and requires some adjustment with daily tasks. Here, Home Care Pharmacy walks you through some ways to make this process more comfortable.
Change Your Outlook
One of the first steps in becoming more comfortable with a wheelchair is to think positively. Losing mobility of your legs is emotionally challenging, but falling into despair will prevent you from making the changes necessary to experience a higher quality of life. Some ways to alter your perspective about using a wheelchair include:
Acceptance
You may be tempted to focus on the activities you can no longer do, but turning your mind to new opportunities is an important step in accepting this change. For instance, many individuals in wheelchairs feel a lack of independence, but investigating strategies to retain freedom while using a wheelchair may help you better accept the situation.
Educate
Take a moment to look back and educate yourself on why you needed the wheelchair. Seeing the value it brings, such as eliminating more severe alternatives and allowing you to retain your life despite health complications, may give you a brighter outlook.
Strategies to Facilitate a Smoother Adjustment
Whether using a wheelchair temporarily or long-term, you should be aware of steps to make the transition more comfortable. Some aspects to consider include:
Modify Your Home if Necessary
You may need to reconfigure your home to make moving around easier. This may involve adding ramps, widening doors, implementing stair lifts, or simply making your daily items more reachable. Everyone uses their home differently, so it is important to think about what you most use and base your alterations around those factors. The goal of modifying your home is simply to make your day-to-day tasks feel similar to the way they were before the wheelchair.
Maintain Your Independence
Along with making necessary adjustments, maximizing your independence is an ideal approach to a smooth transition in the wheelchair. Some methods for retaining your independence while in a wheelchair are continuing to do your favorite hobbies, finding wheelchair-friendly exercises, or socializing with others.
You may even want to complete your weekly errands as usual. Thanks to today's technology, you can find online solutions for everything from grocery delivery to medical equipment delivery. There are many interests you can still enjoy while in a wheelchair. The following are just a handful of activities not limited by needing a wheelchair:
Hanging out with friends
Baking and cooking
Going out to eat
Watching your favorite shows and movies
Playing with your pets
Playing cards, building puzzles and completing crafts
Enjoying nature
Find Support Groups
Talking with others who are in similar situations is one of the most effective strategies for dealing with change. While your family and friends might offer great advice and company, sometimes it's nice to just chat with someone who is also in a wheelchair, especially a person who has used one for a while.
Plenty of in-person and virtual support groups exist. You may ask your doctor about finding a support group in your area or do some online searching to locate one yourself. If you are not ready to join a support group, check out blog pages and other articles written by people who have been in your place before to find solace.
Discover Wheelchairs and Other Medical Equipment at Home Care Pharmacy
Adjusting to life in a wheelchair is a process. The costs associated with medical equipment can be an added stressor for individuals going through this transition. For this reason, Home Care Pharmacy, a pharmacy serving Los Angeles and Ventura counties, is happy to offer medical equipment rentals. Whether you require a short-term or long-term rental, Home Care Pharmacy can help keep the costs of wheelchair equipment at a minimum.
For more information or to speak with a pharmacist about adjusting to life in a wheelchair, contact us today.